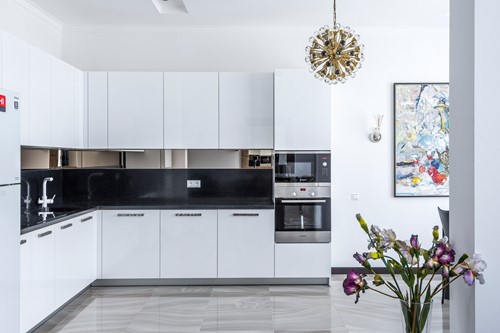 Open concept kitchens have been a popular aspect of open floor plans for decades. Open kitchens do not have walls to separate prep, cooking and dining spaces, which can have some key advantages for some homeowners. However, an open concept kitchen might not be right for everyone. Here are some of the major pros and cons to consider:
Open Kitchen Pros
Maximizes Space - Open concept kitchens are excellent for homes with low square footage. An open layout makes more efficient use of space than traditional kitchens with multiple walls.

More Light - With an open concept kitchen, there aren't any extra walls obstructing the flow of light. You can take advantage of natural light from nearby windows and use artificial light more efficiently. All of that extra light makes cooking, food prep and other kitchen tasks easier and safer.

Supports Multitasking - When you have an open concept kitchen, you can take part in conversation and activities outside of the kitchen. Even while cooking, you can be part of conversations and do other things like enjoy your favorite media. Open concept kitchens make multitasking much easier than in a traditional, closed-off kitchen.
Open Kitchen Cons
Noise & Smell Can Travel - Sometimes, kitchen activity is noisy. With an open kitchen, that noise can travel elsewhere and cause disruptions. Cooking breakfast in the morning while people are sleeping, for example, becomes more difficult when you have to be extra careful about not making noise. Smell is also a major factor. Especially fragrant foods can permeate the entire house with no walls to contain them.

Reduced Cabinet Space - Open concept kitchens have less room for cabinets. Built-in cabinets are only under counters and against walls and with fewer walls, there is less storage space to work with. While there are ways to mitigate this, such as with a kitchen island or free-standing shelving, lack of cabinet space is a definite downside of open concept kitchens.
These are just a few of the factors to consider when deciding about an open kitchen. Weigh the options to determine whether this open concept layout is right for you.